Published July 14, 2023
WaveAccess is celebrating its 23rd anniversary! On this occasion, we extend our warmest congratulations to everyone who has been a part of our incredible journey. We would like to take this opportunity to share the most recent news and updates about our company's progress.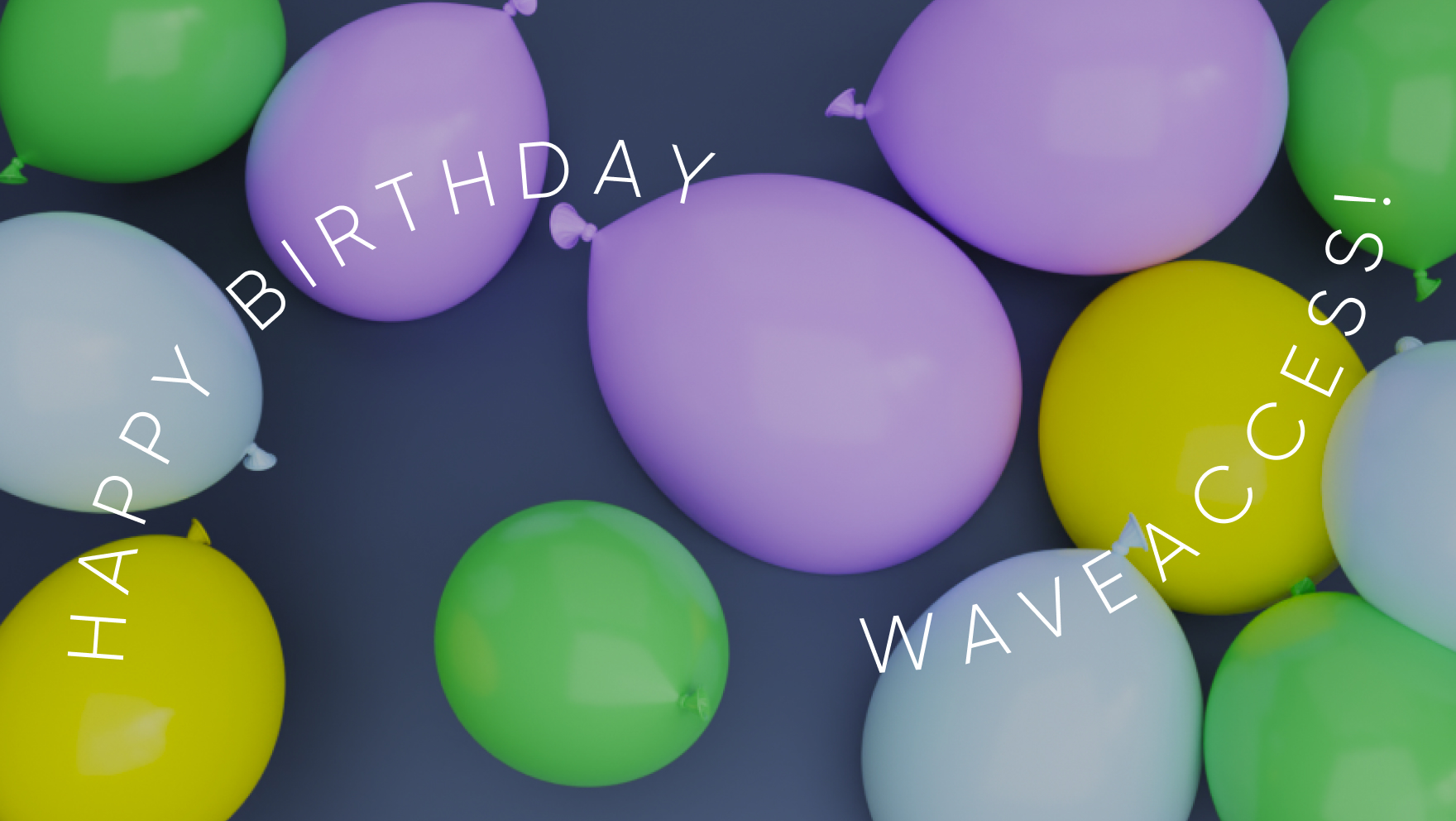 WaveAccess has reached yet another significant milestone: throughout the past 23 years, our company has tirelessly crafted custom software solutions for various business processes and tasks, and managed to assemble an exceptional global team known for its outstanding performance and collaboration focus. Our utmost priority has always been to prioritize our clients' goals and enable them to focus on their business growth while we take care of their tech-related needs.
At present, WaveAccess offers an array of 50 services, encompassing software engineering, Data and AI, Microsoft Dynamics 365, DevOps and optimization, IT consulting and outsourcing, urgent project recovery, as well as design and prototyping. Our company boasts an extensive proficiency in advanced and highly sought-after technologies, such as Artificial Intelligence (AI), Machine Learning (ML), Internet of Things (IoT), blockchain, VR/AR/MR, Big Data, and Business Intelligence (BI).
Over the past year, we were focused on enhancing our proficiency in tackling intricate technological and business challenges, forging new partnerships, advancing our proprietary products, supporting employee initiatives, and investing in exceptional talents. Let us provide further details about some of these remarkable milestones.
Rebranding
WaveAccess has undergone a successful rebranding, and we were delighted to introduce you to the fresh and yet recognizable logo in bright vibrant color and our new motto "Form The Future" that proclaims activity, creation, courage, and speed. WaveAccess's new look is optimally aligned with the transformation we have experienced as a company over the past decade and symbolizes our dynamic future.
Geography
WaveAccess remains dedicated to fostering a global team approach, expanding its reach. Over the years, our team has expanded significantly, comprising more than 850 professionals today working across 30+ countries. Although our employees bring diverse life experiences, interests, and expertise in various fields, they all share a strong commitment to collaboration, innovation, and sustainability.
Over the past year, WaveAccess's office in Yerevan, Armenia, has experienced rapid growth. The workforce has doubled, creating a vibrant multicultural environment. Additionally, the Armenian office has become a central hub for negotiations involving WaveAccess's executives from different locations. We have also observed significant interest in our services from companies engaged in FinTech. Furthermore, our Armenian branch also boasted the launch of a new website.
Internal communications
We introduced a new corporate platform that has quickly become the foundation of our internal communication ecosystem, effectively uniting all employees worldwide and serving as a singular information environment. The intranet's purpose is to simplify routine operations, facilitate vertical and horizontal communication, and promote the company's values and principles.
New services
WaveAccess has introduced a new practice that accumulates its extensive expertise in the travel and hospitality software development and strategic consulting. We offer innovative solutions development and provide strategic guidance to enhance the operations of travel businesses. With a deep understanding of the sector's unique challenges and by embracing the latest technologies, we empower our clients to succeed in the dynamic travel landscape.
Projects
WaveAccess has been involved in numerous significant projects that will be remembered for their impact. Here are a few noteworthy examples:
We built a multi-tenant lead capture platform for CaptureNow, the US-based SaaS solution provider for consumer-based law firms. The application allows users to reduce the cost of client acquisition, customer retention and increase the number of requests and positive feedback. The system's core feature is the opportunity to create AI chatbots. By hiring our team our client saved around 50% on their overall project costs.
We introduced our latest agricultural IoT solution designed for remote monitoring of stored crops, including sugar beets, potatoes, vegetables, corn, grain, wheat, and more. cropSave is a comprehensive hardware and software suite, comprising a web monitoring app built on the Thingsboard CE IoT platform and LoRaWAN devices known as thermal rods, which were developed by our team. By employing the solution, we anticipate that our customers (including agricultural holdings, smaller farms, food processing companies, and retail chains) will be able to reduce crop losses by 20%.
Our team has also dedicated efforts to enhance ValueAl, our AI-powered platform for processing incoming requests. We successfully upgraded its functionality by incorporating the OCR (Optical Character Recognition) feature. This new addition enables the platform to recognize document scans and convert them into Docx format, expanding its capabilities significantly.
Industry recognition
Our company has achieved recognition and inclusion in various rankings on key industry platforms and aggregates. Some notable examples include Top App Developers in Las Vegas in 2023 by Techreviewer, Top Software Companies In Las Vegas by DesignRush, Top IT Companies in Armenia, Top 10+ Artificial Intelligence Companies in Germany (2023) and Top 10+ Cognitive Computing Companies in Germany (2023) by TechBehemoths, Top Internet of Things (IOT) development firms in Armenia and Top Natural Language Processing Companies in the UK by The Manifest.
The WaveAccess Nordics office has garnered significant attention from Danish media. Prominent industry resources such as Computerworld , ITWatch, DetailWatch, Transportmagasinet, Energy Supply, and Kommunen have published expert columns and interviews focused on the company's expertise. These columns have helped to raise awareness and establish our reputation as a key player in the market.
Furthermore, we were delighted to have received three new reviews on Clutch, a reputable B2B review and market research platform. Our valued customers from the USA, Germany, and UK have generously provided these testimonials, highlighting their experience with our services. All three reviews have awarded us a five-star rating, showcasing the high level of satisfaction our clients have experienced.
Events
Our team takes great joy in sharing their insights and expertise with the expert community. Our engagements cover a broad range of topics, spanning from the progress of the global IT market to the latest trends in digital transformation. By sharing our experience at the events, in media and other platforms we aim to foster meaningful discussions and facilitate a deeper understanding of the continuously evolving landscape of the IT industry.
Throughout the previous year, we eagerly participated in a multitude of impactful offline events. Notable engagements included HIMSS in Chicago and FIME in Miami Beach; the ITB Travel Expo, DMEA, and E-commerce Expo in Berlin; MedtecLIVE in Nuremberg; TechBBQ in Copenhagen; Global Digital Transformation & Customer Experience Summit in Amsterdam; Arabian Travel Market in Dubai; and FinTech360 in Armenia, among many others.
Moreover, our German team orchestrated a series of remarkable initiatives. They successfully launched networking events for IT professionals in Berlin, commencing with an unforgettable soirée. In a relaxed setting, project managers, team leaders, startup founders, marketers, and developers gathered to exchange ideas, validate hypotheses, forge new team connections, and cultivate friendships. Additionally, their webinar on ISiK and FHIR compliance provided valuable insights into seamless integration strategies for hospital systems (don't forget to watch the full recording here to delve into the topic).
Fostering employees growth and well-being
Our HR team has continuously expanded a comprehensive training program, which encompasses showcase meetings, business English courses and English speaking classes, proficiency training in commonly used programs and tools, as well as courses dedicated to developing essential soft skills.
WaveAccess has been actively fostering eco-initiatives in its offices for many years, demonstrating its commitment to reducing its ecological footprint and striving for a sustainable future. Our implemented initiatives include reducing plastic dish usage, collecting waste paper and plastic lids, recycling batteries, and incorporating greenery within our offices.
Celebrating our journey
As we celebrate our 23rd birthday, we proudly reflect on the remarkable journey we have had over the past years. From our humble beginnings, we have amassed a wealth of achievements, including groundbreaking projects and fruitful partnerships. Our commitment to innovation, exploration and collaboration has paved the way for new and delightful experiences. We extend our heartfelt congratulations to all those who have contributed to WaveAccess's pivotal role in the global IT community today!
As we embark on another year of growth and success, we are excited to continue sharing our company news with you. Be sure to visit our blog regularly to stay ahead and be the first to hear about our latest ventures.
Let us tell you more about our projects!
Сontact us:
hello@wave-access.com

+1 866 311 24 67 (USA)
+45 20 55 62 22 (Denmark)
+49 721 957 3177 (Germany)
+44 7770 395633 (United Kingdom)