Published January 27, 2023
We are delighted to share our two newest reviews on Clutch, B2B review and a market research platform. This time, the feedback was kindly provided by our customers from Germany and the USA.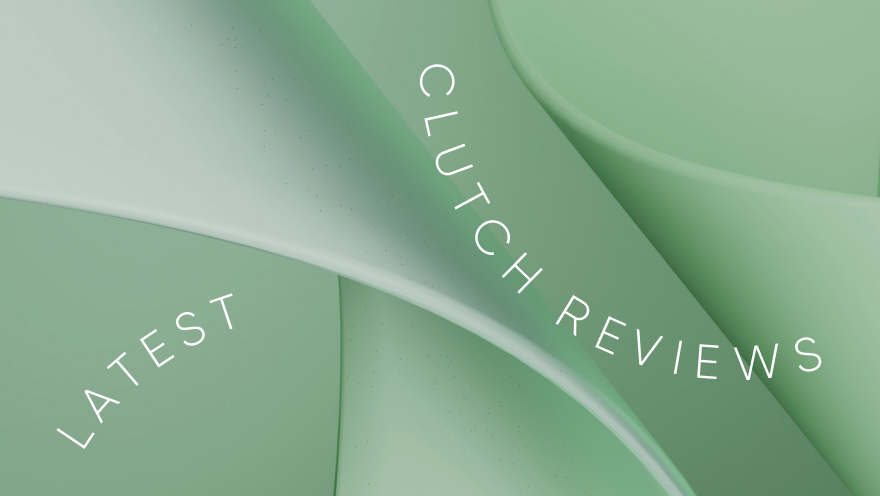 WaveAccess prides itself on its rich 22-year history of delivering world-class IT solutions and helping clients across different industries accomplish their missions. We genuinely care about our clients' goals and strive to allow them to focus on their business growth while we support tech-related needs.
We're always excited to share what we've done throughout the years, and to help us with that, we keep on evolving our Clutch vendor profile. Clutch is a B2B review and  market research platform that publishes data-driven content encompassing the IT, marketing, and business services spaces. The site helps clients connect with trusted service providers for their specific needs and projects.
Stellar ratings
Our newest reviews were provided by Transaction-Network GmbH & Co. KG, a German company for the development of digital ecosystems specifically for mechanical engineering, and CaptureNow, a US-based SaaS solution provider for personal injury or consumer-based law firms.
The testimonial by Transaction-Network features our custom software development work which our client valued with five-star rating. Markus Jackle, COO of Transaction-Network details our work and how we support their microservice-oriented platform with IoT stacks and cloud infrastructure. WaveAccess has been partnering with Transaction-Network to create a new integrative platform that connects companies that build machines with its end customers — the producers — in after-sales support. The company chose our team because of our expertise, availability and cost. Here's what our client wrote about WaveAccess's project and team:
We were impressed with their speed, quality of deliverables, and availability of resources
Markus Jackle
COO, Transaction-Network GmbH & Co. KG
Chris O'Brien, COO of CaptureNow notes that our team has made tremendous progress fast, ensuring that the client will meet their tight launch deadline. The business task at hand was to develop a multi-tenant portal for lead management. As a result, the solution allows users to reduce the cost of customer retention and also to increase the number of requests and positive feedback.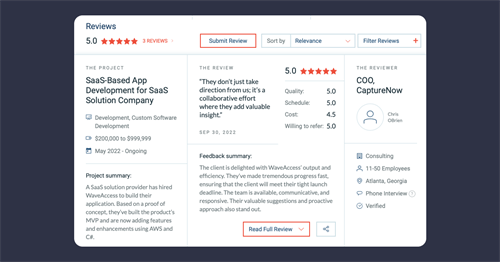 We've been absolutely delighted with the results WaveAccess has delivered and the speed at which they're working. They don't just take direction from us; it's a collaborative effort where they add valuable insight into the product. Moreover, the overall project cost has been lower than we would pay by hiring our own staff. We anticipate a many-year engagement with them
Chris O'Brien
COO, CaptureNow
We're genuinely grateful for Transaction-Network and CaptureNow trust and support, and look forward to unlocking more milestones with you and growing further. We vow to continue delivering high-quality solutions, and projects and reviews like this help us welcome various opportunities.
Let us tell you more about our projects!
Сontact us:
hello@wave-access.com

+1 866 311 24 67 (USA)
+45 20 55 62 22 (Denmark)
+49 721 957 3177 (Germany)
+44 7770 395633 (United Kingdom)