Published November 20, 2020
March, 2020. The WHO offered to use the term 'physical distancing' instead of 'social distancing', because for those who stay at home social relations are more important than ever. In this article, we'd like to talk about a couple of stories where people who communicate and have fun using myQuiz, our own web product. In 2020, this platform helped to engage isolated audiences in activities and events that previously were not even possible.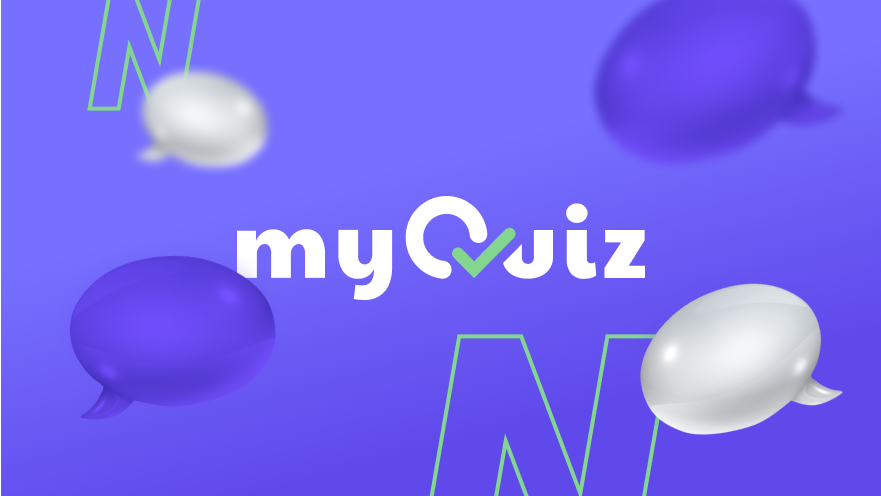 From brands to local communities - we depend on people who gather together, take part and pay attention. Meanwhile today, the predicted global loss in several industries can reach into the trillions of dollars (Bloomberg). Small local businesses are desperate to get their customers back. In these times a quiz platform called myQuiz became the best part of the day for hundreds of people all over the world. 
myQuiz is a platform for real-time online quizzes. People use their mobile devices to play against each other, answering questions. Creating a quiz takes only minutes using a simple web interface. One can even connect myQuiz to YouTube Live Stream or Twitch so that users can view a streaming of the quiz and play a quiz simultaneously using the same device. From a single player all the way up to 100,000 players, you can compete in the same quiz scheduled on a certain date and time, allowing for the engagement of large-scale events. Most games take less than 5 minutes to complete, so that myQuiz users can entertain themselves between a dinner and a scrabble party or take a break from work.
The platform has already become a popular means of communication on social media and at public events. Our quizzes were even held for thousands of sports fans right at the stadium between the rounds of hockey and basketball matches (5000+ concurrent players). Since then, myQuiz has come a long way to currently be the tool that shapes online events and connects people all over the world, at the touch of a button. 
Pub quiz organizers
Hundreds of small companies, sometimes with just a couple of employees, were hosting live quiz nights at bars and pubs, until people found themselves locked at their homes, and quiz hosts started losing their income. 
'Our teams are desperate to play, and the idea is for each team to gather at one players house, log in, and for us to present a version of our regular quiz online', - says Marc Jenner, the host of Europe's biggest regular quiz night who has started using myQuiz since the isolation started.  
He now holds regular quiz nights, and streams them via YouTube. Together with the myQuiz team, Mr. Jenner hosted a series of e-Pub quizzes. The first general knowledge quiz was scheduled for July, 16th, 19:00 GMT.  After that a second quiz was held, and it gathered 350 players from 13 countries: UK, USA, New Zealand, Portugal, Nigeria, India, UAE, Ireland, Spain, Romania, Saudi Arabia, Australia and Kenya. 
myQuiz for local fundraising activities
As another example, Megan and Pete Quinn, professional quiz runners from Ireland, launched a 'Quarantine Quiz' and ended up as organizers of a worldwide team entertainment and charity platform. The first quiz in April had just several participants that they knew personally, but the last one had more than 650+  competing teams with entries even from New Zealand! Another example - Ryan Wickens from the USA. Wickens has been in the business full-time since 2011 and figures he has written about 50,000 trivia questions and 3,000 quizzes. He uses the myQuiz platform to engage as many as 300+ teams at once. Each team pays only $5 to connect to the quiz online - which can save his business! 
From London to Dubai, quiz hosts are going online. We are happy that myQuiz helped quiz organizers like Kings Trivia Gold Coast (link), Pub Quiz Questions (link), Thornbridge Online Quest (link), Spectacular Quarantine Quizzes (link), and many many others. 
Local quizzes, connecting people
One evening in March, 2020, Mike Roberts, a UK citizen based in Barcelona (Spain), decided to run a myQuiz event for his Facebook friends during the Covid-19 lockdown. He was stunned by the reaction. His talent for devising clever questions that appeal to all ages and interests, coupled with an exciting real-time format, had people hooked from the start.  
Almost six months later, the quiz is still running. Every day at 11pm CET, players from around the world have been competing against each other in what has become the highlight of many people's days. As of September, 160+ quizzes have been played and counting… Mike creates about a third of them, and the players themselves take turns making the rest. "We have the user-friendliness of the MyQuiz tool to thank for that" he says. "That and Wikipedia!"
Mike encourages setters to make the questions as international as possible and to keep the language simple. He wants to appeal to people from all nations, including non-native speakers.
A whole community has built up around the quiz. People who have never met in person chat like old friends on the WhatsApp group, and long-lost friendships have found a way to re-connect. Many like to play just to feel part of a group, others compete for places in the monthly league table.
When there is no way to get together for City Day, there will always be a quiz
Local communities and official institutions joined the myQuiz platform to cheer up people locked down in their homes as National Days, City Days, victory parades, and other special events went online!  
myQuiz became an essential part of online gatherings: a fun part, that helps to socialize, commemorate important historical events, express respect and gratitude, and feel connected. myQuiz supports all types of media content: the questions may involve plain text, images or even video — which gives participants the diverse experience they are looking for. 
Youth clubs, universities and whole cities include myQuiz in their official schedules along with virtual excursions and online concerts. Dozens of family clubs, schools and libraries in Russia offered WW2-themed quizzes to support online celebrations of the Victory Day.  There are hundreds of quiz holders: WWF (Earth Hour quiz), Russian Geographical Society's Zauralsk division (World War 2 themed quiz), Russian Railways (youth intellectual tournament), Republic of Sakha (Statehood Day) are among them. 
'Just like to thank you for creating such a brilliant website that is keeping me and the family sane during this challenging time!', - says Greg Dean, one of 1,3M myQuiz users. 
*** 
myQuiz platform is a Microsoft Azure cloud-based service that requires no download and is available 24/7 from any country. It works on any device: smartphone, tablet, or desktop —  erasing the boundaries between isolated people.Today, to host an interesting quiz you don't even have to invent your own questions: there is the Marketplace with quizzes on almost every topic in the world and it is even being updated by a brilliant content team. As public spaces were closing and people became physically distanced, more and more quiz organizers embraced the tool that could keep everyone distantly socialized.  And we hope that you'll find this tool useful for your business, also! 
Let us tell you more about our projects!
Сontact us:
hello@wave-access.com

+1 866 311 24 67 (USA)
+45 20 55 62 22 (Denmark)
+49 721 957 3177 (Germany)
+44 7770 395633 (United Kingdom)