Published March 19, 2020
WaveAccess joined SPORTEL Miami, the global convention for the sports media and technology industry. Our team has shared insights on how technology is carving out new, creative, and experiential ways to enhance fan engagement.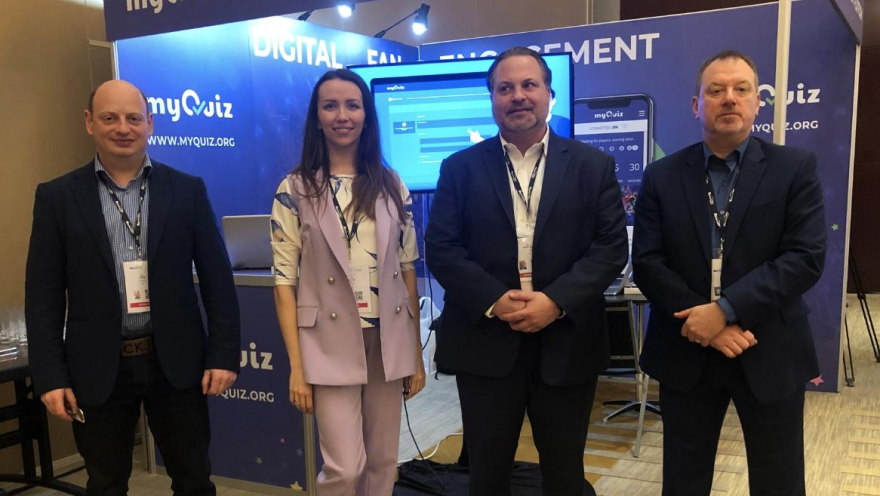 On March 3-6, WaveAccess joined SPORTEL Miami, the world's only convention for the international sports media and technology industry. Our team shared insights on how digital technology is redefining the fan experience, opening the doors to unique sponsorship opportunities, and developing a new ecosystem of fans, sports clubs and sponsors.
SPORTEL Miami brought together over 400 sports tech enthusiasts, international sports media and key technology stakeholders. The attendees were focused both on discussions and networking, as well on the deal-making.
WaveAccess introduced myQuiz — a multiplayer online platform that empowers users to create and conduct live large-scale trivia games. At the myQuiz booth, the conference guests were able to see for themselves how the digital fan engagement platform can help deliver memorable in-stadium and online experiences.
In addition, David Spangler, the VP of Business Development for WaveAccess, has shared his perspective on how technology and digital innovation are carving out new, creative, and experiential ways to enhance fan engagement. Let's take a look at the key takeaways from the presentation.
David Spangler introducing the Digital Fan Engagement Platform at SPORTEL Miami
Fan engagement
Fan engagement is a big buzzword the sports industry frequently comes across. It boils down to building more intense and deeply rooted connections with a fanbase. Whether you are a sports club, manager of a venue, or a sports marketing agency, this is probably something that is always on your mind.
We view fan engagement as a core element of the Sports Industry Ecosystem involving fans, sports clubs and sponsors.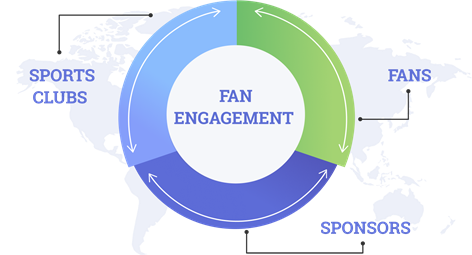 Sports Industry Ecosystem
The challenge on the technical side is to develop a solution that satisfies all of these parties. A game-changing fan engagement mechanism should provide a Return-On-Investment (ROI) to the sports clubs (such as enabling more ticket and apparel sales, providing more interaction), to the sponsors (advertisement retention, brand awareness), and obviously to the fans (better offline and online experience, stronger connection to the team etc.).
What are the sports clubs looking for?
Let's dive deeper into this Sports Industry Ecosystem and discuss the drivers for each group, starting with the sports clubs. What are they looking to achieve?
First, we need to look at the picture holistically, where the fans are the fuel that keeps the sports clubs' motors running, and the means how the players, staff, and coaches make money. The highest priority is to fill the seats in the stadium by offering overwhelming experiences that keep the fans coming back to the stadiums. So, creating a better in-stadium experience is certainly a goal for the clubs.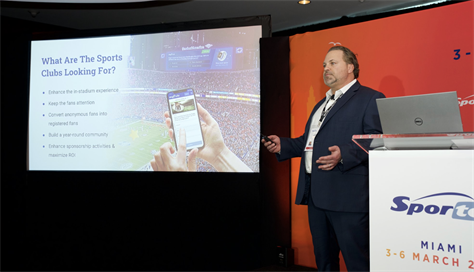 Given all of the distractions modern technology has created, it has become harder and harder to keep the fans' attention, so sports clubs need interactive ways to entertain fans and fight for their attention.
In one of his interviews, Dana White, president of the Ultimate Fighting Championship, noted  that he knows only the person that purchased the tickets, but not the two others that this person brought to the event. This means converting anonymous fans to known registered people is crucial to paint a more complete picture.
Another big thing is to build a year-round community. Sports are seasonal, and there is certainly a recession during the off-season, so sports clubs need to extend the fan experience to new channels and drive deeper conversations using digital technologies and providing a reason for the fans to stay engaged and connected.
And no doubt, sports clubs are looking for new channels for sponsors to seamlessly integrate their messaging in addition to traditional ambient advertising. Which is aimed at maximizing ROI and generating sustainable demand for sports sponsorships.
What are the sponsors looking for?
In times of advertising message overloads, ROI is no longer just about brand awareness, where sponsors want their messages to be seen and retained. Sports clubs and venues are expected to team up with sponsors to build deeper relationships with fans.
Technology has provided new mechanisms for advertisement — platforms where sponsors can tap into a fully engaged audience that fits their profile, and deliver messages in a more natural manner to get a much higher rate of retention.
What's more, sponsors are certainly looking for analytics on their campaigns, where they can get full play-by-play reports with actionable insights.
What are the modern fans looking for?
Let's take a look at the fans and what drives them.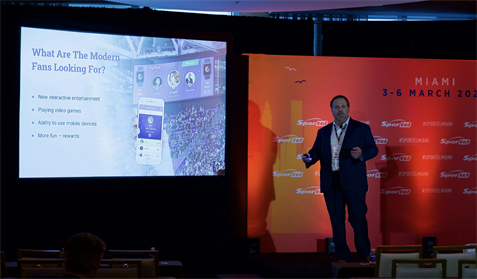 We certainly recognize there are many different classifications to the types of fans, and those classifications could be open for debate. To keep it simple, we will categorize them into three groups:
A superfan who follows the team religiously and knows all the stats

A social fan for whom the sporting event is a social occasion to hang out with friends

A culture fan who is there for the overall experience just as much as for the game itself
While fans are attending the game for different reasons, we do believe there are common elements between most of them:
They are attending the game to be entertained, and want an experience that is unconditionally enjoyable and interactive.

They are looking for engaging experiences that extend beyond the boundaries of the game via gamification. Everyone loves to play games, compete and be rewarded — we are addicted to winning, and sometimes the mere existence of a leaderboard entices us to play.

They are looking for real time engagement: 90% of American adults own mobile devices, and with the rise of social media fans are expecting more engagement than ever before.
Communication patterns to consider
Now let's talk about how the communication patterns have evolved since the boom in mobile technology. This is critical for sports executives and marketers to consider on their journey for new direct-to-fan channels.
We are dealing with shorter attention spans, clip thinking, multi-screen viewing, and streaming. Informational noise and the technology revolution have made it so we consume content in a much different manner. With all of the options available across so many different screens, fans are distracted. This means sponsors are not competing against each other in the traditional sense anymore — now they have to compete for the attention span of the in-stadium fans, live-streaming viewers or highlight reel watchers.
Sports clubs and venues have adapted to these changes by modernizing their infrastructure with huge monitors, powerful wireless network solutions, cutting-edge mobile apps, targeted in-stadium ads, luxury seats and suites, and the list goes on.
Take the New York Mets Citi Field, for example, where they are working on enhancing the game experience to further meet the needs of this on-demand economy by testing a self checkout kiosk where fans can scan their items and checkout using fingerprint technology. Or, The Vikings US Bank Stadium has an app that provides traffic conditions and parking alerts directly to the fans to streamline the process of getting to the venue.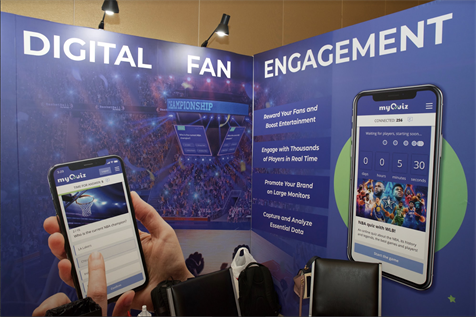 myQuiz booth at SPORTEL Miami
Digital technology integrated with Social Media
Whether it is pregame, in-stadium experience, or post-game, social media sees temporary spikes in user activity. But what happens during the off-season? A harsh recession from both fans and sponsors. How can the clubs stimulate social activity when the next game might not be for the next 6 months?
We believe that when applications or microsites are integrated with social media, it creates the perfect platform for sponsors and sports clubs to run and host large-scale online events, competitions or sweepstakes. This is something we have paid a great deal of attention to at myQuiz, and have developed an integration with YouTube Live where we empower sports organizations to host and stream their own trivia game shows. 
Just imagine if a player from your favorite team is hosting a live trivia contest and you are watching that live stream on your mobile device while competing to win season tickets or a lunch with a player. This type of experience would get the whole community posting, tweeting and talking about your team even during the off-season.
The possibilities in hosting live trivia and integrating gamification into your engagement strategies are endless. Our goal is to empower the sports industry with technology to be creative and interact with their fanbase according to their terms and guidelines. This is what myQuiz can offer.
Digital Fan Engagement Platform
Our digital fan engagement platform enables users to run large-scale online trivia with up to 100,000 concurrent players. myQuiz empowers you to create and conduct live trivia for the fans at stadiums, in social media, and online via their mobile devices. It is specifically designed to accommodate medium to large venues and could be optimized for display on large monitors.
The trivia can be branded according to your guidelines, added to social networks, YouTube, a website, or integrated into a mobile app. For the sponsors, myQuiz supports interactive advertisements.
Here are some clips from experiences in Qatar, Norway and Eastern Europe. The Qatar quiz, sponsored by Vodafone, was the most recent with over 13,000 soccer fans competing for prizes during the 24th Arabian Gulf Cup. The local sports media reported it was Vodafone's first digital experience at the mass sporting event.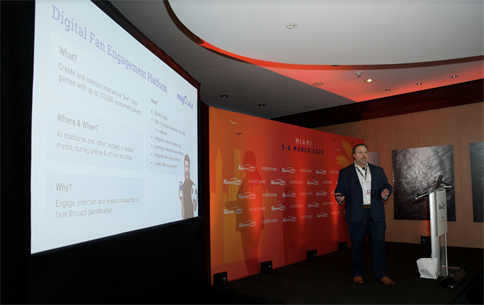 To summarize
The manner in which sports fans experience games they love is constantly evolving. As the changes occur, it is critical for the sports industry to recognize the value and importance of fan engagement and evolve alongside them. 
Tapping into innovative digital technologies allows us to be at the forefront of strengthening fan engagement on social media, in-stadium, and fans watching from any number of devices. These technologies provide us with an opportunity to redefine the fan experience, and build deeper connections with the fuel that drives the Sports Industry Ecosystem.
Would you like to get a myQuiz starter kit to run your first branded trivia game?
Reach us out: hello@myquiz.org 
Also, check WaveAccess featured on the Best Web Design Companies In The US list compiled by Webdesigncompanies.com.
Let us tell you more about our projects!
Сontact us:
hello@wave-access.com

+1 866 311 24 67 (USA)
+45 20 55 62 22 (Denmark)
+49 721 957 3177 (Germany)
+44 7770 395633 (United Kingdom)