Published November 18, 2022
Let's unveil how to build a centralized request management system and solve the problem of inefficient request processing using Artificial Intelligence.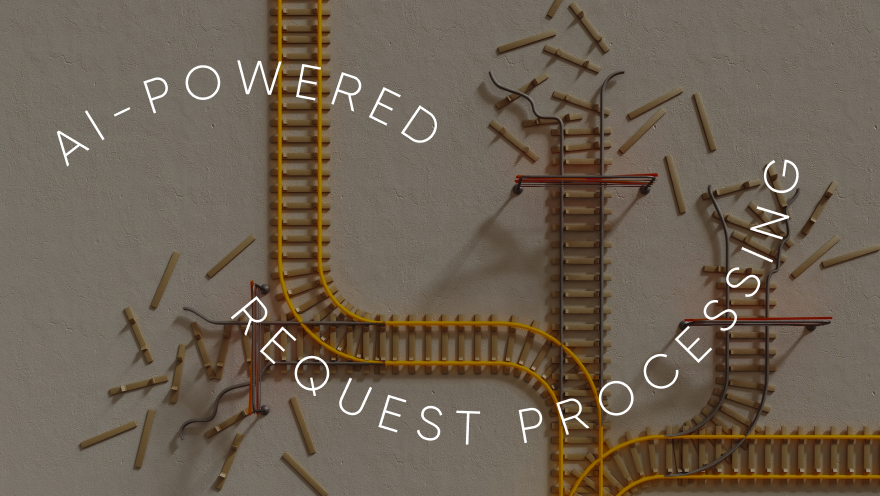 Marketplaces, service centers, banks, medical centers, government agencies and other organizations often face a deterioration of customer service. This problem is frequently caused by incorrect or long processing of incoming requests, and sometimes it is the result of unknowingly ignoring them. 
Today, numerous resources, platforms and specialized tools based on Machine Learning (ML) and Artificial Intelligence (AI) generate massive amounts of customer information. Sales, marketing, and customer service teams can't keep up with the growing stream of requests coming in through dozens of communication channels. Extracting valuable insights from the data they receive is becoming increasingly difficult. Messages wait for a long time to be answered and important ones get lost, routine tasks of processing requests demotivate experienced professionals, and the loss of focus leads to mistakes. All this results in missed opportunities to increase conversion rates and loss of customer loyalty. 
Let's unveil how to build a centralized request management system and solve the problem of inefficient request processing using Artificial Intelligence. 
How does a company understand that it needs to automate incoming requests processing?
Incoming requests include messages of various topics and content in the following types: 
emails, 

messages to corporate messengers, 

technical support tickets, 

requests for information, 

inquiries to the sales department, 

feedback requests, etc.
These may include return requests, requests for help in setting up equipment, doctor's appointments, loan requests, quality assurance complaints, and more. Generally, all these requests are collected and processed in one or even several corporate systems.
Companies are investing a lot of resources in data collection and analytics, setting up systems to extract valuable information when working with customers. At the same time, they keep on actively attracting new clients, the number of communication channels is growing, and more and more specialists are required to work with requests. And there comes a moment when the growing flow of requests becomes a bottleneck. In the absence of the ability to handle requests in a timely and high-quality manner, specialists begin to unintentionally violate regulations and SLA (Service Level Agreement), the quality of service declines, and then the company risks losing user loyalty, and even its reputation in some cases.
The problem is the lack of a tool to automatically prioritize and evenly route incoming requests to the appropriate departments and employees in charge of specific tasks.
To cope with this problem, companies often resort to expanding their staff, but it's not always possible to quickly hire employees who will get up to speed quickly. In addition, this approach has its limitations in terms of scalability, flexibility, and cost. Even for an entire team of experienced professionals, at some point it will become impossible to comprehend all the data they receive, especially if it requires rapid decision-making. 
Automated AI-powered request processing comes to the rescue. AI solutions can quickly process large amounts of data and extract the right ones, as well as provide previously unavailable insights to support decision-making.
The power of AI in online request processing. What do companies get?
AI-based request processing includes classification, ranking (by type, urgency, complexity, profitability and other criteria) and routing requests to the proper departments and employees. This reduces response time, decreases the number of errors caused by a human factor, and reduces the number of unprocessed or missed inquiries.
Before starting to use such a solution, the business must take time to properly prepare and structure the data that will serve as the basis for AI training: to enter it into a spreadsheet in advance and carefully fill it out. And while the preparatory phase requires the experts' input (often the AI system development team also helps with data preparation), then the system itself learns how to handle the information without human involvement and performs the rest of the data processing operations.
At the same time, such solutions don't act as an analogue or replacement of the CRM system or Service Desk, but offer additional functionality that expands the possibilities of request processing. 
The following advantages for business can be highlighted, regardless of industry:  
improving the service quality and customer loyalty by speeding up request processing, reducing response time, reducing the proportion of requests being lost or left unanswered, and reducing the number of human errors; 

optimizing labor costs through partial or full automation of the user support service and answers to their questions;

maximizing conversions and sales through prioritizing the most promising and profitable requests, speeding up service and improving the quality of request processing;

increasing the effectiveness of marketing and advertising campaigns, and making targeted promotions based on customer segmentation.
Here is an example of the B2B project that we implemented for a company specializing in equipment maintenance. The project goals were to optimize engineers' schedules, minimize the labor costs of manually distributing requests containing descriptions of the work required, and reduce the processing time for such requests. The solution had to determine which categories and types of work each request required, to classify requests for warranty or non-warranty repairs. As a result, the implemented solution was able to predict 97% of the categories and 80% of the subcategories of work required to close the request at the planning stage. In addition, the system revealed that 20% of the requests had been previously misclassified, causing the company to lose revenue.  
Tips for implementation of systems for processing incoming requests and ROI evaluation
Universal criteria for all companies when choosing a solution for request management include the system's ability to seamlessly integrate into the corporate IT infrastructure, as well as the availability of updates and the customization option to fit the changing business needs. When selecting a system, be sure to examine whether the following features are available: 
quick and easy integration with other corporate solutions; 

24/7 technical support;

no need to hire AI specialists to run the system;

short implementation period;

ability to retrain the model an unlimited number of times;

availability of customization;

different installation options: cloud and/or on-premise;

compatibility with different types of data processed: text, tables, images and document scans; 

availability of a trial version with access to full functionality.
The cost of the solution, in addition to the license fee, typically includes implementation costs. The price varies depending on many factors, including the volume of data files. However,before implementing the system, it is crucial to estimate the return on investment (ROI). ROI is calculated individually for each business, depending on the specific tasks. For one company the ROI means workforce optimization, for another company it is speeding up data processing, etc. So, if a company implements an AI system to reduce the time it takes to manage the requests, the payback period is estimated as follows. The average processing time per request is multiplied by the number of requests per month, the average cost of working hours in the corresponding units, and an estimated coefficient of time reduction for processing. The result is the amount of money saved. Then the cost of the implemented solution is divided by this estimate, and you get the payback period. 
However, the best way to test the feasibility of implementing a system is to develop a proof of concept based on accumulated data. The prototype will allow you to assess the model accuracy, calculate ROI and understand how effective the full-fledged project will be.
Another important thing to keep in mind is that the entire project won't be limited to the introduction of AI. For the result to be consistently satisfactory, such solutions need to be further retrained on emerging data and new types and the formats of requests.
Let us tell you more about our projects!
Сontact us:
hello@wave-access.com

+1 866 311 24 67 (USA)
+45 20 55 62 22 (Denmark)
+49 721 957 3177 (Germany)
+44 7770 395633 (United Kingdom)