Published August 6, 2018
WaveAccess, that is the 2018 Microsoft Partner of the Year Award winner in AI (Russia), shares the brightest cases from the top speakers of Microsoft Inspire 2018, a global partner conference.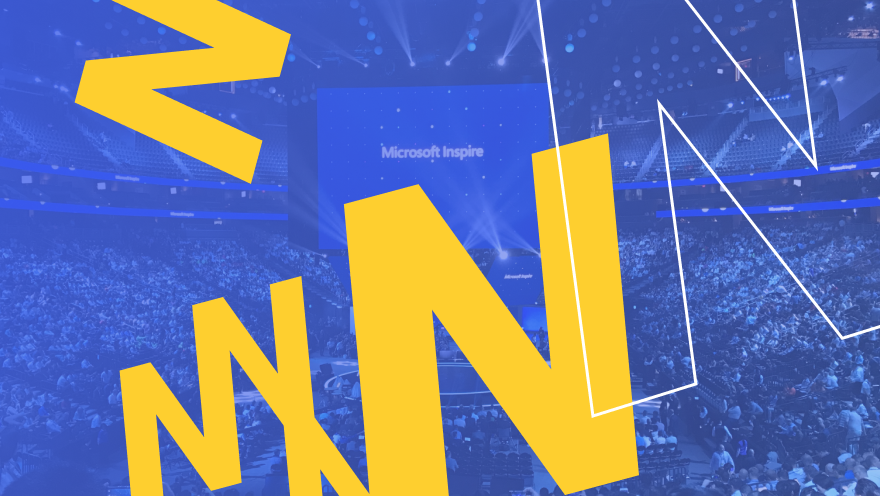 On July 15-19, Microsoft Inspire 2018, a global partner conference of Microsoft, opened its doors in Las Vegas, Nevada. WaveAccess, who is the Russian Partner of the Year 2018 in Artificial Intelligence, visited the conference and shares the brightest cases from top speakers.
About Microsoft Inspire
Microsoft Worldwide Partner Conference is an event held annually by Microsoft Corporation for its partner community since 2002, and two years ago it changed its name to Microsoft Inspire. At the conference, Microsoft sums up the results of the previous year and sets the roadmap for the upcoming one, and its partners, who are IT companies from over 100 countries, share their experience and best practices, learn new skills and techniques, and expand their network. Every year, the location for Microsoft Inspire is different: the two previous conferences were held in Washington, DC, and Toronto respectively. In 2018, the location was Las Vegas, NV, famed for its entertainment, gambling, and nightlife industry, as well as for the Mojave Desert canyons nearby.
Microsoft Inspire consists of several sectors:
Corenotes, which is a main stage for Microsoft top management speakers

The Commons, where partners from all over the world network and demonstrate their products

Sessions, an array of panels and discussions on specific problems
Throughout the four days, there were 589 sessions on different topics: cyber- and data security, Microsoft products, business functions from development to sales, and even social topics such as diversity, inclusion, and the introverts' edge in business.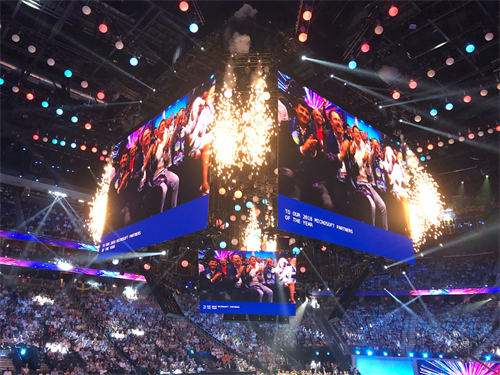 This year, WaveAccess was among the technology leading Microsoft partners. WaveAccess holds the Silver Partner status since 2007, and last year we won the Business Analytics Microsoft Partner Award in Russia. This year we are the winners in Artificial Intelligence, and with this title we were proud to be at Microsoft Inspire 2018.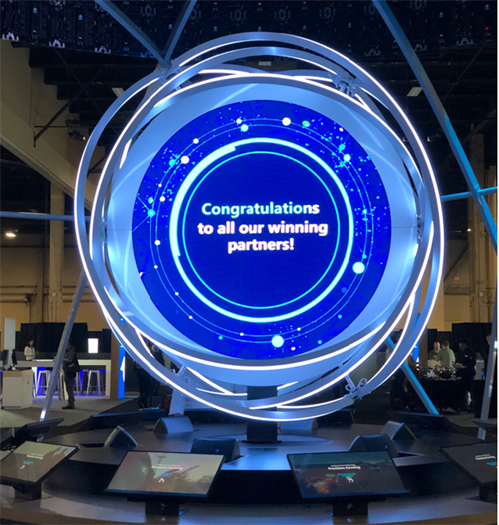 Key speeches
It all started with the Corporate VP for One Commercial Partner Gavriella Schuster's welcoming speech at the main stage. Schuster announced key 2017 successes: Office 365 has now reached 135 million commercial monthly active users, CSP consumption is up 234%, and Azure — 65%. Also she noted that Dynamics 365 was up 65% last year. One of WaveAccess' key expertises is Dynamics 365 customization and deployment, so the platform's growth is always good news for us!
Next, the conference welcomed Judson Althoff, the Executive Vice President of Worldwide Commercial Business at Microsoft Corporation. He talked about how AI can enhance the customer experience in non-digital industries. Everyone's favorite case from Althoff was the Carlsberg brewing company's AI project to predict the taste of beer based on its ingredient profile and other conditions. A beer technology lab had been recreated right on the stage, where the speaker and the Carlsberg team delivered a live presentation of how it works.
Then Brad Smith, Chief Legal Officer and (since 2015) the President of Microsoft, took the stage. He addressed the problems of cybersecurity and data security, and proposed whether we could see a Hippocratic oath for coders — as the AI that they develop makes decisions in a variety of fields and gets more and more power in the world today.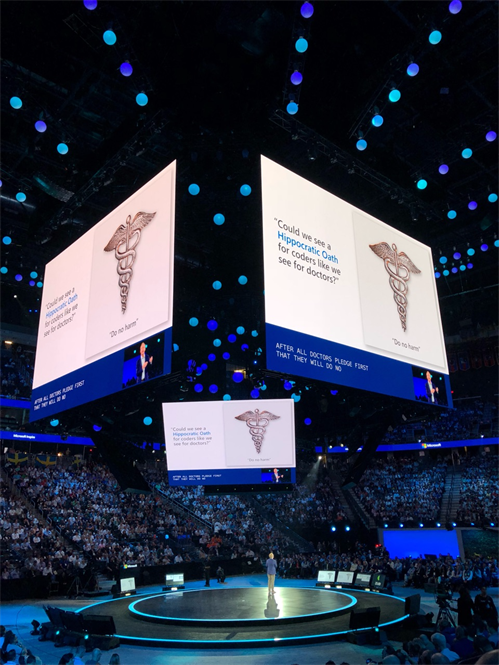 Speaking of AI, Jason Zander, EVP of Microsoft Azure, focused on the set of services Azure offers for infrastructure, app modernization, data, IoT, and AI. According to him, Azure has the most powerful virtual machine available in the market today, the new Azure Migrate tool allows for seamless migration, and Azure IoT Central treats devices the way that CRM treats customers — no surprise that the product's growth was up 65% last year.
Alysa Taylor, CVP of Business Apps and Industry Marketing, and Anand Eswaran, CVP of Microsoft Enterprise, in their shared speech discussed the re-invention of customer experience using Dynamics 365, a hybrid of CRM and ERP platforms. Taylor brought up examples from several industries. One of the Microsoft partners created a fairly unique campus management system for a university which enables predicting when a student is starting to fall behind, and comes up with a learning path for such students — to enhance their experience and support graduation. Another case was from a healthcare company that used Power BI to gather and analyze patient data and predict consequences, resulting in more saved lives. At WaveAccess, we have delivered a similar healthcare system based on machine learning. It informs caregivers and insurance companies about potential health risk in patients, and is easily integrated with other services.
And the final Corenote was by Microsoft CEO Satya Nadella, who delivered an inspiring message on Microsoft's mission to empower every person and organization on the planet to achieve more. "We're going to infuse everything with AI", he said, — and that would not be possible without the enormous infrastructure of 54 Azure data center regions, with several data centers in each. Fun fact: the amount of interconnect cables across the data centers is enough to go to the Moon and back three times.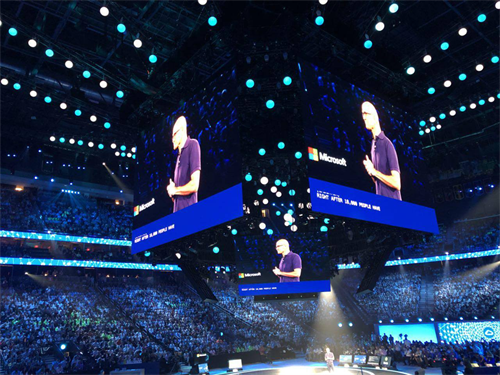 Nadella also talked about Project Natick, the technology of a water-submerged data center that can be built in 90 days from start to finish, and it is fully emission-free and eco-friendly. These data centers are suited to serve people living around the sea coast, which is 80% of the world's population, and facilitate fast internet access for developing countries.
Alex Azarov, Senior VP of Engineering at WaveAccess, notes that visiting Microsoft Inspire this year was truly inspirational and has set a standard for future achievements: "We were glad to meet fellow Microsoft Partners from other countries and learn a lot of new techniques. Also, it is a comfort to know that our AI project is recognized by Microsoft as one of the best in the world. For our team, it is a great incentive to sharpen our skills and strive for further success!"
Let us tell you more about our projects!
Сontact us:
hello@wave-access.com

+1 866 311 24 67 (USA)
+45 20 55 62 22 (Denmark)
+49 721 957 3177 (Germany)
+44 7770 395633 (United Kingdom)