Gamification is a progressive phenomenon, so gamification products must keep pace with the times. Today we launch new features of WaveAccess CRM Gamification Tool.
1. A new convenient way to display the achievements
Track your progress easier! New visual bar graph shows how many points you have and how many points have your closest competitors.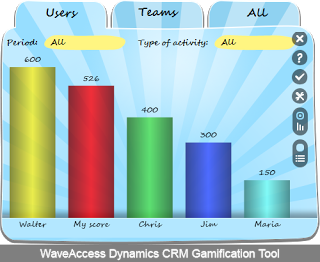 If you like previous version of leader board more, settings allow to leave everything as it was: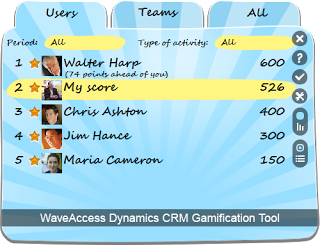 or combine both options for even greater clarity: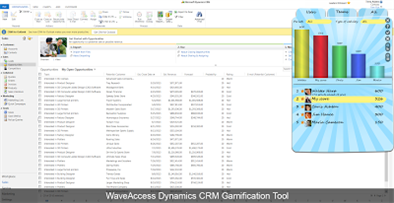 2. The opportunity to choose up
Have you noticed tab «Teams» at the screenshots? Yep, now it is possible to form teams and compete entire departments.
3. Filters
Another nice thing is a new filter for more detailed statistics. For example, the filter allows to show the activity of the certain user or team by type (sales, marketing, etc.) or time period (week, month, year). This handy statistics allow heads of departments, and the players themselves, to understand what user succeeds in working with Microsoft CRM more than others.
Recall that WaveAccess continues to accept proposals for the CRM Gamification Tool improvement. If you want to download CRM Gamification Tool or share an idea with us, please visit:
http://www.wave-access.com/Public_en/ms_crm_gamification_product.aspx
We thank you all who submit proposals. Together we make CRM Gamification Tool better!