Published October 6, 2015
A quiz game is the new feature of WaveAccess Dynamics CRM Gamification Tool that allows you to improve the sales team's knowledge about customers or company products, increase employee engagement and improve CRM user adoption.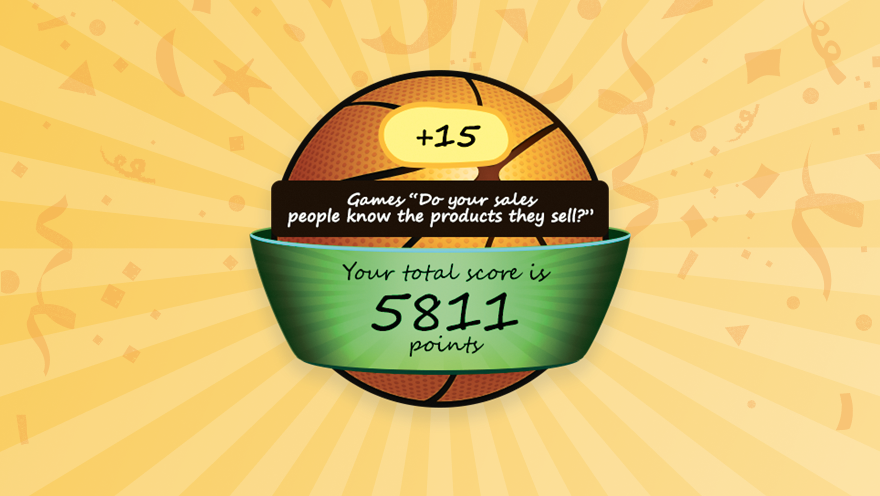 No matter the size of your company, excellent customer service needs to be in the center of your business model if you wish to be successful.  It is important to provide good customer service to all types of customers, including potential, new and existing customers.
One of the things that customers are most likely to remember is the direct interaction they have with your company. So, you have to be sure that your team has the right skills for your managing customers' needs and provides personalized service.
Unfortunately, with an intense working rhythm your sales people can occasionally mix up clients, forget what their customers look like, their job position and company they are working in. And thus reduce the quality of service.
Make your customers feel appreciated and your sales and marketing efforts more effective with Quiz game - the new feature of WaveAccess Dynamics CRM Gamification Tool.
Gamification Tool – is the only fully configurable Microsoft Dynamics CRM add-on that increases involvement of your sales team in their work and improves CRM user adoption.
Built-in Quiz game based on CRM data allows to refresh and to improve CRM users' knowledge about their customers or company products. The Game shows players some pictures with questions about products / contacts / accounts. When answer is correct, user gets points.  
Questions in the Game can be generated over any custom entity and you can also specify questions and items in the way you need. This will allow your employees to learn better the customer base and refine knowledge about company products.
How can your sales people learn some facts about their clients?
CRM user starts a game with a special window in CRM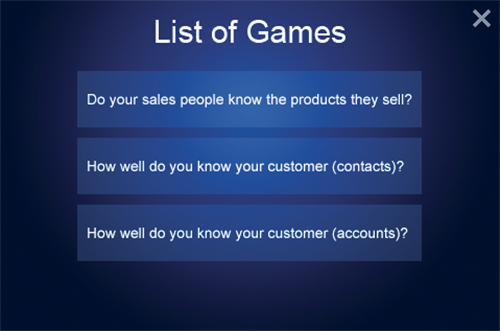 Correct answers are displayed during the game. So, the user can improve his knowledge about a client if he had chosen the wrong item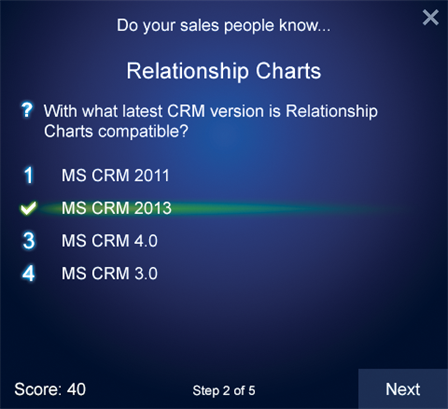 Question about product
After 10 questions the user can see his total score: 1 point for each right answer he gave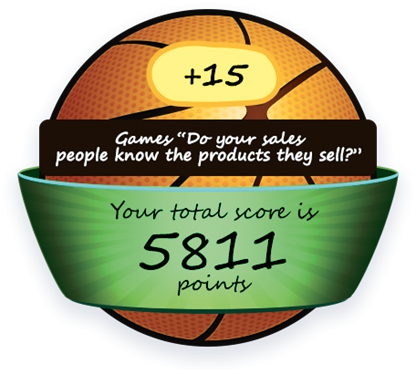 WaveAccess CRM Gamification tool supports CRM 2015/CRM 2013/CRM 2011 online/on-premise.
Install free trial with a few clicks and drive your Customer Service trainings with WaveAccess Dynamics CRM Gamification Tool!
Let us tell you more about our projects!
Сontact us:
hello@wave-access.com

+1 866 311 24 67 (USA)
+45 20 55 62 22 (Denmark)
+49 721 957 3177 (Germany)
+44 7770 395633 (United Kingdom)