WaveAccess experts have developed a website for the International Federation for Equestrian Sports (FEI). This beautiful and simple for visitors website is devoted to the annual FEI Awards ceremony.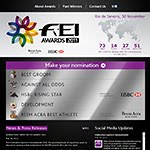 The main goal of WaveAccess in this project was to expose a global awards scheme for the whole equestrian world. In order to increase the visitors activity it was necessary to make a nomination process more transparent and easy.
WaveAccess specialists have chosen ExpressionEngine CMS as most appropriate website managing system for the set tasks. In order to extend the standard functionality we have added several specific modules to it. To aggregate feeds from the leading social networks such as Facebook, Twitter and Youtube we have used vendor provided APIs.
We came with a completely fresh and improved design and at the same time enhanced its functional capabilities. WaveAccess designers put a splash movie onto the main page, social media sites' feeds, winners' gallery and other additional features, that make the website more personal, lively and visually appealing. The work of FEI employees, who select nominees has been considerably simplified: due to thought through, logically organized list of nominators with extended search options and email notifications – FEI workers can now efficiently get the necessary data and process it to choose winners.
As a result, by allowing the key elements to bring the needed appeal and with the usability heavily improved and of course due to FEI self promotion, the website has received a considerable interest to the award. 'This site has been a fantastic success, gaining support and nominations from all over the world<…>The functionality and the design were exactly what we were wanting, and within budget.' said Richard Johnson, Director of Corporate Communications.
About FEI: the FEI is the international governing body of equestrian (horse) sports. The FEI headquarters are in Lausanne, Switzerland. The FEI Awards were launched in 2009 to put a spotlight on the men, women, young people and organizations that are making an outstanding contribution to the progress and excellence of equestrian sport – in or out of the arena. For more information about FEI, please visit http://www.fei.org
About WaveAccess company: WaveAccess is a software development company founded in 2000 with headquarters in the USA and offices in Russia and the Ukraine. Company develops custom software products for Internet Enterprise, Medical and Microsoft Dynamics CRM markets. The majority of WaveAccess clients come from the US and Europe. For more information, please visit http://www.wave-access.com