Upgrade your customer's Microsoft CRM to the latest version with WaveAccess CRM team; leverage the power of CRM for mobile devices; new enhanced UI; and completely configurable Business Process Flows.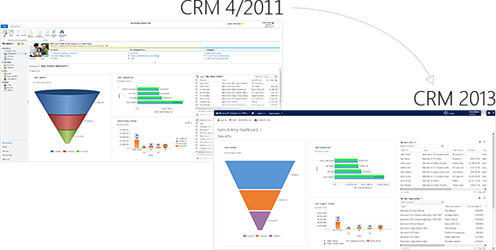 Why do you need it and why to do it now? 

The way business operates has changed recently. The main difference is mobility! Everything became mobile and users are demanding that information they need will be available everywhere.
Microsoft was not the first one who supported mobility so you might already hear complaints from your customers evaluating other CRM solutions for lack of mobile devices support in Dynamics.
MEET YOUR CUSTOMER NEEDS NOW BEFORE THEY SWITCH TO ANOTHER PARTNER OR VENDOR!
Articulate the value of Business Process Flows as a visual guidance tool that makes workflows more prescriptive and easier to follow. User Adoption goes up when it is obvious for users how to work with the program.
Are there any risks in CRM upgrade?
CRM 2013 is a substantial shift in technology from CRM 2011 since all forms got new UI look and feel to support mobile devices and Microsoft had to change forms API. But changes from CRM4 to CRM 2013 are just enormous.
In simple words, everything changed: Forms API changed completely, server side end points became obsolete, and server side SDK changes made the code written for CRM 4 not easily transferable to CRM 2013.
So if you heavily customized your CRM on the client side using JavaScript, on the server side using plug-ins or custom workflow activities, or just connected to CRM web services from your own ASP.NET applications, you have to face the truth there is a lot of work to be done to make it work on CRM 2013.
You can "refactor" your CRM implementation; make it cleaner; split it into a set of managed solutions; and build your own vertical products based on them. Also, you can migrate your users from on-premise to CRM online and reduce your infrastructure costs.
What kind of efforts are needed for your CRM upgrade?
CRM upgrade work consists of several activities: rewrite the server side plug-ins and custom workflow activities; rewrite the JavaScript forms customization; rewrite the external web applications that consume CRM data; and after that, migrate the data. It is not a mechanical process. To produce new code, it is necessary to understand what the current code does.  Losing even a part of the current functionality or making it wrong might hugely impact the whole organization's CRM success.
Experience shows that efforts required on CRM upgrade depend on several factors:  the current version of CRM and the level of your CRM customization. And the time for upgrade might take from several hours up to 30% of the time you spent on original CRM
Would you like to know more or get a quote? Just give us a shout!