WaveAccess won the "Project of the Year" Award in the special category "Expert's Choice" for the digital farming solution Episcope. The IoT and AI based analytical platform for enhancing farm performance was implemented for SKOV A/S. In total, over 190 applications were submitted for the contest this year.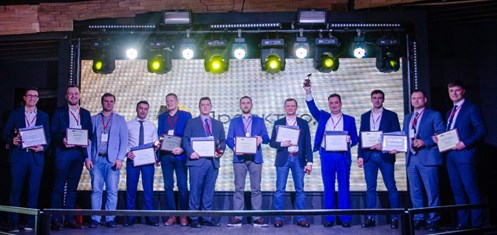 WaveAccess was awarded the "Project of the Year" Award which had been held by the professional community of IT managers Global CIO for 8 years. Their digital farming solution Episcope was chosen as the winner of the special category "Expert's Choice". The platform was developed for SKOV A/S, a manufacturer of climate solutions for farmers.
Episcope — the IoT and AI based solution — enables farmers to effectively control the conditions of animal housing and raising, and to competently manage resources. The platform serves to address four issues:
Collection, processing and visualization of historic data and competitors' data;

Advanced data analytics;

Warnings about data anomalies;

Animal weight control using Artificial Intelligence technology.
The solution is able to transform the agricultural industry by increasing business profitability and product quality while reducing impact on the environment.
"The Episcope analytical platform has expanded the functionality of the SKOV's farm management system through efficiently configured operations with data, namely data visualization and in-depth analytics, along with performance indicators' predictions. We are delighted that the project was recognized by the expert IT community!" noted Esper Sejersen Riis, Project Manager, SKOV A/S.
"We would like to thank the experts for their appreciation of our project! Application of digital farming practices carries strong potential and winning the title of the "Project of the Year" reaffirms the growing interest of the professional community towards digital agriculture solutions." commented Alexander Azarov, Senior Vice President of Engineering at WaveAccess.
The new category "Expert's Choice" was first introduced at the "Project of the Year" Award this year. Experts, including business and media representatives, selected five projects that, in their view, are most consistent with the definition of "Digital Transformation to Improve the Company's Competitiveness".
We will be delighted to tell you more about our projects based on IoT and AI!
Reach us out: hello@wave-access.com